---
Build your very own Wet Liner palette!
Choose from 4, 9 & 15 pans, each palette will be custom built for you!
Want others to try your palette? Create it and share on instagram!
Get creative, and don't forget to tag @glisten_cosmetics.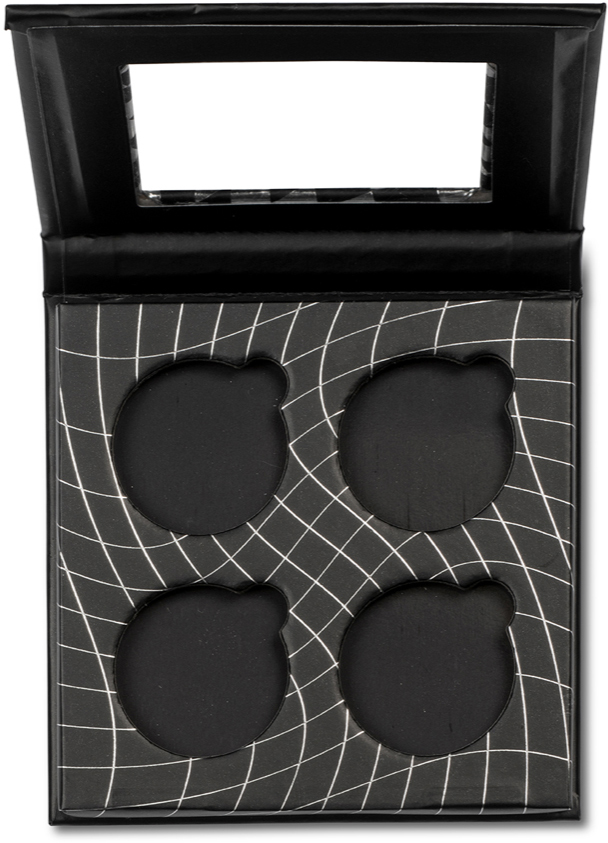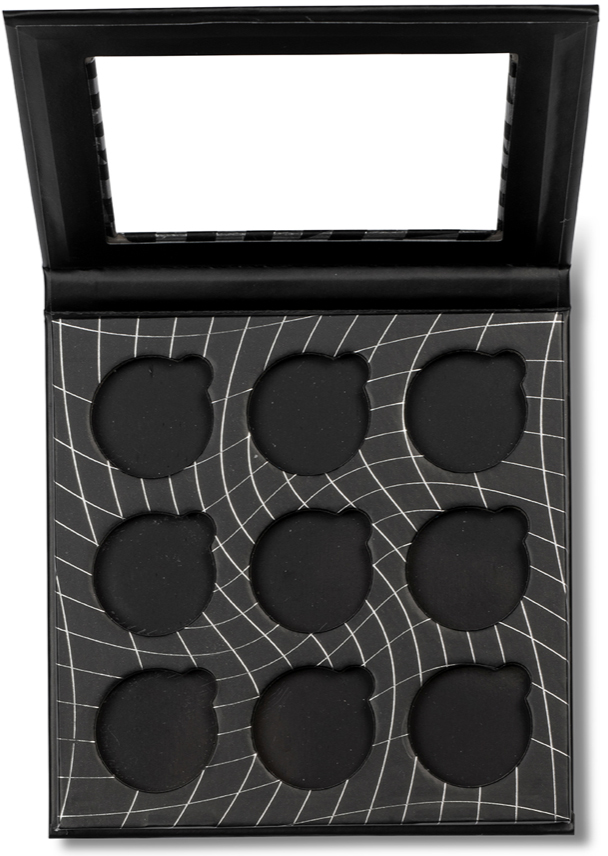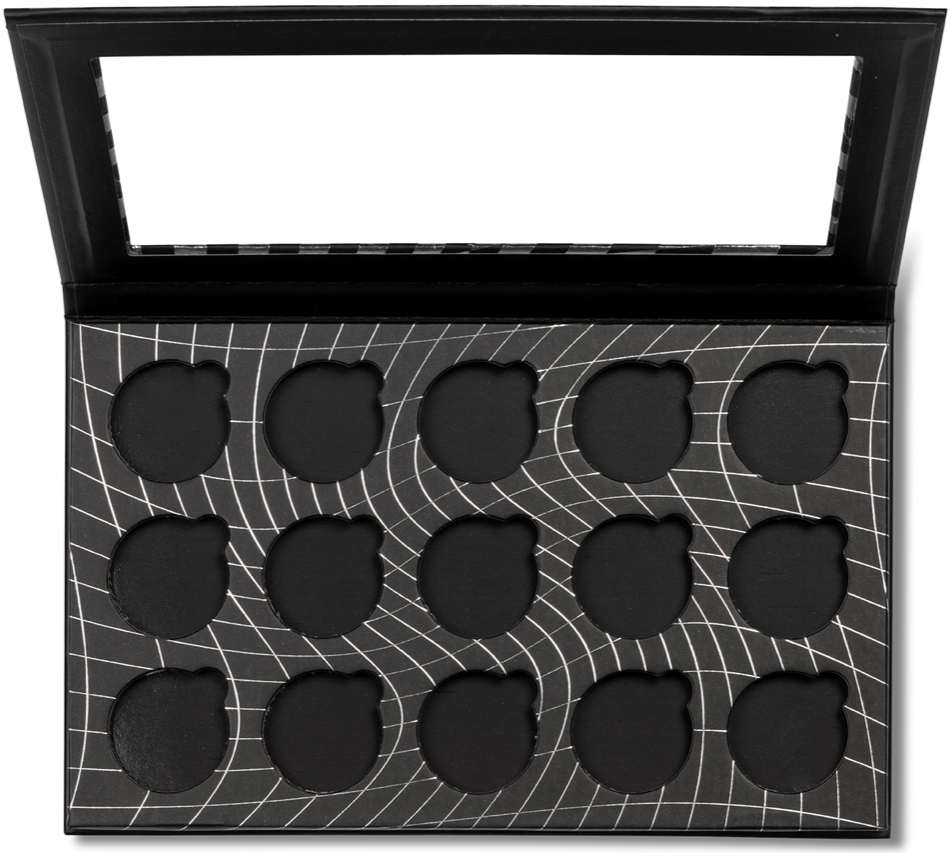 Purchase Custom Palette
Eye Liner Pans
Please select a Palette size first!
Aluminium (Silver) Pan

Amethyst (Metallic Lilac Purple) Pan

Ametrine (Metallic Purple) Pan

Apple (Metallic Green) Pan

Aqua (Aqua Blue) Pan

Asteroid (Metallic Grey) Pan

Aubergine (Dark Purple) Pan

Banana Split (UV Yellow) Pan

Bananas (Yellow) Pan

Banoffee (Yellow) Pan

Berryade (UV Blue) Pan

Bewitch (Duochrome White Blue) Pan

Bloody Mary (Duochrome Purple Orange) Pan

Blue Heaven (UV Turquoise) Pan

Blue Lagoon (Duochrome Blue) Pan

Blue Moon (Light Blue) Pan

Blue Sky (UV Blue) Pan

Blueberry (UV Baby Blue) Pan

Blushing (Metallic Red Pink) Pan

Breezer (Duochrome Gold Green) Pan

Bubblegum (UV Teal) Pan

Buff (Nude) Pan

Bumblebee (Mustard Yellow) Pan

Camo (UV Green) Pan

Carrot Cake (Orange) Pan

Cashflow (Green) Pan

Chai (Peach Orange) Pan

Charm (Duochrome White Gold) Pan

Cherry Pie (Deep Red) Pan

Cherryade (UV Pink) Pan

Chocolate Chip (Ochre Brown) Pan

Coffee Cup (Brown) Pan

Coke Float (Black and White) Pan

Cola (Black) Pan

Collins (Duochrome Gold Orange) Pan

Copper (Metallic) Pan

Cosmo (Duochrome Pink) Pan

Cotton Candy (Pink UV) Pan

Curacao (Duochrome Blue Purple) Pan

Custard (Light Yellow) Pan

Divine (Duochrome Pink White) Pan

Double Denim (Dark Blue) Pan

Dusty (Nude) Pan

Elixir (Duochrome Purple White) Pan

Emperor (Blue and Black) Pan

Evergreen (Dark Green) Pan

Field Day (Green) Pan

Fire (Orange Red) Pan

Flamingo (Pink) Pan

Fruit Salad (UV Pink & Peach) Pan

Galaxy (UV Blue and Purple) Pan

Gateau (Brown) Pan

Golden (Gold) Pan

Granite (Metallic Grey) Pan

Grape (UV Pastel Purple) Pan

Grapeade (UV Purple) Pan

Grapevine (UV Purple) Pan

Gunmetal (Metallic Dark Grey) Pan

Heather (Purple) Pan

Ice Blast (UV Baby Blue and Purple) Pan

Inferno (Shimmer Red) Pan

Jade (Metallic Green) Pan

Jasper (Dark Rose Red) Pan

Lantern (Dark Green and Black) Pan

Lapis (Shimmer Blue) Pan

Lemonade (UV Yellow) Pan

Limeade (UV Green) Pan

Lobster (Red) Pan

Loch Ness (Dark Green) Pan

Manhattan (Duochrome Pink Gold) Pan

Mars (Red Brown) Pan

Menthe (Dusty Mint) Pan

Merbabe (Shimmer Green) Pan

Milk (White) Pan

Mimosa (Shimmer Orange) Pan

Mint (UV Mint Green) Pan

Mojito (Duochrome Green Pink) Pan

Montserrat (Deep Teal) Pan

Moon Rock (Shimmer White) Pan

Moss (Shimmer Green) Pan

Mulberry (Shimmer Purple) Pan

Old Fashioned (Duochrome Brown Green) Pan

Olive Tree (Green) Pan

Orangeade (UV Orange) Pan

Papaya (Orange) Pan

Peach Melba (UV Orange & Peach) Pan

Peach (UV Peach) Pan

Peachy Cream (UV Orange & White) Pan

Pennies (Metallic Copper & Orange) Pan

Peppa (UV Pink) Pan

Platinum (Metallic Light Silver) Pan

Plum (Dusty Purple) Pan

Poison Berry (Metallic Pink) Pan

Pool Party (Shimmer Blue) Pan

Pottery (UV Blue & White) Pan

Quack (UV Yellow & White) Pan

Raspberry Punch (Pink) Pan

Raspberry (Dark Pink) Pan

Red Velvet (Red) Pan

Ritual (Duochrome Green White) Pan

Rose Quartz (Metallic Orange) Pan

Roses (UV Red & Rose) Pan

Roulette (Red & Black) Pan

Rust (Red Brown) Pan

Sapphire (Blue) Pan

Seafoam (UV Green and Teal) Pan

Seltzer (UV Aqua) Pan

Shades (Grey) Pan

Slushie (UV Blue) Pan

Split Peas (UV Green) Pan

Strawberry Cheesecake (UV Pink) Pan

Strawberry (UV Baby Pink) Pan

Sulphur (Metallic Yellow) Pan

Sunflower (Shimmer Yellow) Pan

Sunrise (Duochrome Red Gold) Pan

Teapot (Blue) Pan

The Royals (Blue) Pan

Topaz (Metallic Blue) Pan

Tortoiseshell (Brown) Pan

Traffic Cone (UV Orange) Pan

Tutti Frutti (Metallic Orange and Pink) Pan

Twin Pines (Shimmer Green) Pan

Vanilla (UV Light Yellow) Pan

Vegas (Gold) Pan

Wine Time (Purple) Pan

Fig (Dark Purple) Pan

T-Rex (Khaki) Pan

Solar (Yellow) Pan

Key Lime (Lime) Pan

Turquoise (UV Turquoise) Pan

Coral (UV Coral) Pan

Citrus (UV) Pan

Periwinkle (UV) Pan

Fuchsia (UV) Pan

Delight (Light Yellow) Pan

Wink (Light Purple & Blue) Pan

Green Tea (Light Green & Turquoise) Pan

Pretty In (Light Rose) Pan

Turtles (Green) Pan

Beach (Turquoise & Yellow) Pan

Mondays (Grey & Dusty Blue) Pan
Share
Change Palette Size